WHY OUR REGION NEEDS THIS
Every child deserves to play. Playgrounds are vital public spaces for community connection and social development. Yet, the average playground is not designed to meet the needs of all those who want to play, particularly the one in four of us living with a disability.
Inclusion is a way of thinking, a way of being, and a way of making decisions about helping everyone belong.
Inclusive play helps develop a true understanding of the world and encourages appreciation of the differences between people. More importantly, inclusive play recognizes our similarities and builds a more compassionate society.
This is the most exciting park in our City's history. And will put Santa Barbara on the map. ~ Planning Commissioner
Gwendolyn's Playground will be the first fully inclusive playground in Santa Barbara, enriching public spaces to truly serve our whole community. We have designed a truly one-of-a kind destination experience that will elevate play to be more for everyone, bringing community together in JOY!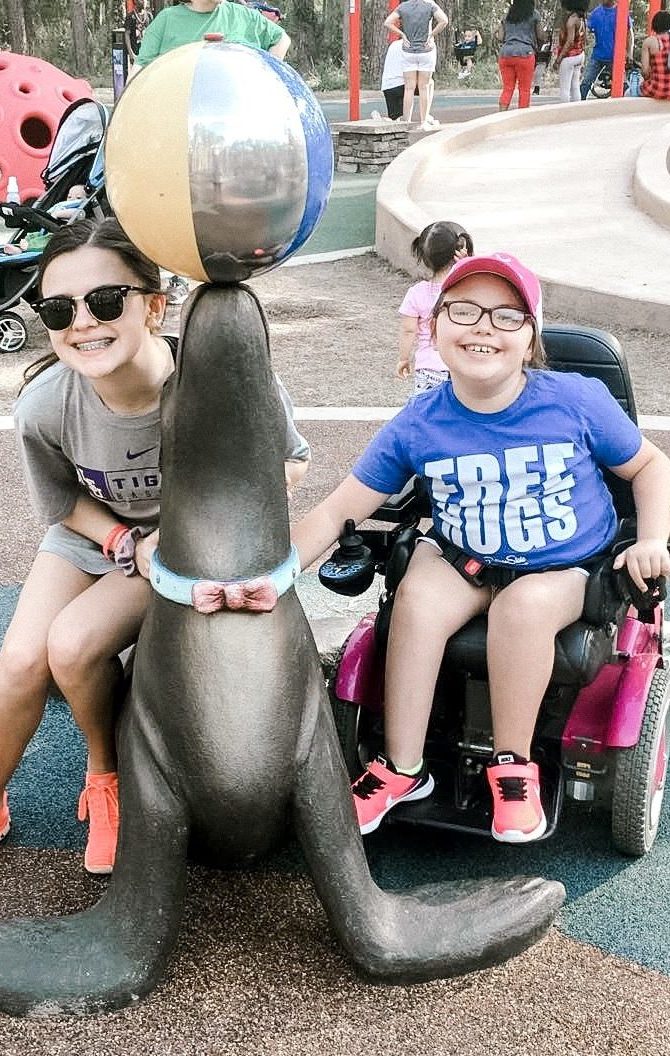 $6MM needed to build Gwendolyn's Playground plus $4MM to build the sports field complex
 Total raised to date for Gwendolyn's Playground
HELP US BUILD GWENDOLYN'S PLAYGROUND
We have partnered with the City of Santa Barbara and Parks and Recreation to create the first fully inclusive playground in our region. We believe all children should have the opportunity to get to be one of the kids, to be at the center of fun, to belong. We think public playgrounds should celebrate our differences and the many ways we learn, and set the standard of the more tolerant, cooperative, and compassionate society that we all deserve. But we need YOUR help to make this incredible space a reality! The City has generously donated the 10-acres of land and made the commitment to infrastructure costs, while the Gwendolyn Strong Foundation will fundraise for the $6Million playground and is actively seeking partners to fund the remaining $4Million for both the sports field complex. We are also applying for both government and nonprofit grants.
Become a Founding Partner, which includes naming and signage opportunities to reflect your commitment and investment. Additional areas of sponsorship are available. Contact us to learn more. Together, we can cultivate a more inclusive future!
Inclusive, innovative, whimsical and fun, Gwendolyn's Playground is a place to spark wonder in every age. Our custom, one-of-a-kind multi-story Magical Tree is the centerpiece of this space, filled with imaginative play, STEAM interactive experiences, and allowing for the exploration and full accessibility of every visitor. Considerate of the many ways we learn and grow, this sensory-rich environment removes the physical and social barriers of today's typical playground. Here EVERYONE belongs and has opportunities to challenge themselves, play side-by-side, and have fun together. These experiences foster life-long lessons of cooperation, empathy, and kindness. 
Inclusive + Fun
Thoughtful equipment, color, and design invite people of all abilities and ages to play together.
Safe + Accessible
Secure fencing offers fully accessible entrances, and play spaces are free of prohibitive bark or steps.​
Innovative + Sensory-rich
Multi-level imaginative play structures break the mold of traditional playgrounds to engage diverse learning styles and ignite all five senses.
Educational + Connecting
A thriving gathering place for a community that provides opportunities for inclusive programs and educational outreach events.
We are so grateful for the support of our Founding Partners in this private/public/nonprofit project. Join us in leaving a lasting legacy by building inclusion for all. Recognition of your community investment will be artfully displayed within the playground. Sponsorship plaques and field naming opportunities are limited. Please contact us to get involved or learn more: [email protected] or donate directly here. A limited number of commemorative pavers can be purchased here.
NEVER GIVE UP Partners $150K+
$1,050,000 – MAGICAL TREE donated by Manitou Fund and Nora McNeely Hurley
$500,000 – SLIDE HILLSIDE donated in Memory of Norman F. Sprague III by The Sprague Family and The Mildred E. & Harvey S. Mudd Foundation
INCLUSIVE SWINGING donated in Memory of Jack Bonelli by Bonelli Family, Feeding Littles, & Bapron Baby
SENSORY SPINNING donated by Grassini Family Vineyards
BUTTERFLY PLAZA & LITERACY PROGRAMMING donated by Robin & Roger Himovitz
CLIMBING FEATURES ~ sponsorship available
BUTTERFLY SHADE SCULPTURE ~ sponsorship available
MOSAIC ART ~ sponsorship available
INCLUSIVE ART MURAL by Fred Calleri sponsored by The Foley Family Charitable Foundation
Shannon & Neil Young
REFLECTION GARDEN ~ sponsorship available
Bella Vista Designs, In Honor of Nana Zellet
Brignardello Family
Claassen Family
Deakyne Family
Deckers Outdoor Corporation
MUSIC GARDEN donated by Grace Fisher Foundation
Hutton Parker Foundation
KINDNESS MOSAIC donated by Steve & Cindy Lyons
TOADSTOOL HOUSE donated by Montecito Bank & Trust
DIVERSITY PROGRAMMING donated by Mosher Foundation
KINDNESS GARDEN donated by Natalie Orfalea Foundation
Paskin Family Foundation
GATHERING ZONE donated by Rudi Schulte Family Foundation
Smidt Family Foundation
Alice Tweed Tuohy Foundation
LITTLE INCLUSIVE LIBRARY donated by Yardi Systems
FRIENDSHIP Partners $25K+
Kelly & Kevin Almeroth
Ann Jackson Family Foundation
Avexis/Novartis Gene Therapies
Bartolo Family

BMW Santa Barbara

Cohen Family
Crossfit Pacific Coast
Delio Family
Duo Events
Alex & Casey Fang
Festivals 4 a Cause: Schwabecher, Powers, Olson & Hawkins Families
Roger S. Firestone Foundation
Greene Family Foundation, In Loving Memory of Teya Sterndahl
Lily Hahn, The Lucky One Foundation
Kyle's Kitchen
Posch Family
Leanne Schlinger
Lynette & Jason Spievak
Twining & Winn Families
Artiste Winery
Chandran Family
Brian Coryat
COX Charities
Crane Country Day School
Crocker Family
Curtis Family
Fess Parker Winery 
Andrew & Ivana Firestone
Gardner Grout Foundation
FRIENDSHIP BENCH, Girl Scout Troop 50396
Larry & Robyn Gottesdiener

In Memory of Aiden Henderson, Team Aiden

GRANDPARENTS BENCH, In Honor of Laura & Frank Haywood
Jaffurs Wine Cellars
Analise Maggio
Lewis A. Kingsley Foundation
Jesse Licht & Molly Tollesfson
Montecito Firefighters Charitable Foundation
Sarah & Ryan Muzzy
Nye, Stirling, Hale & Miller, LLP
In Honor of Asher, Beck, Sky & Stella, Pirozzi Family
Santa Barbara Foundation
In Memory of Owen Shuler, Fight For Owen & Shuler Family
Catherine & Matthew Stoll
GRANDPARENTS BENCH donated by Ellen Strong
Larry & Marina Weiss
Williams-Corbett Foundation
Alpha Resource Center
Autism Embrace
Grace Fisher Foundation
Koegel Autism Center
Kyle's Kitchen
MOXI
PathPoint
Peer Buddies
Santa Barbara Zoo
Shane's Inspiration
Tri-Counties Regional Center
UCSB
In Honor of Jordan, Arnold Family
B&B Foundation
Chris, Kara & Chloe Bellamy
Patricia & Paul Bragg Foundation
Bristol-Emmett Family
Bethany & Jeremy Bodenhamer
Chapman Family
Santa Barbara Band of Chumash Indians Foundation
John & Deneen Demourkas
Dolotta Family Charitable Foundation
Peter Douglas Foundation
Jasper & Brook Eiler
Jill Ellis Makeshift Studio
Akasha & Rowan Farber
Fell Family
In Honor of Finn the Fighter
In Honor of Matthew & Erika Fisher
Jordan Fishman
In Memory of Ava Francis, Team Ava
In Memory of Callie, Golden Family
Greg Goodman
Belle Hahn, The Little One Foundation
Patrick & Diane Hall
Hayward Lumber
Josh & Yessica Holloway
In Honor of Josh Hyman, Zach Hyman
Ide Family
TJ & Lisa Jackson
Blake & Emily Jones
Kacie Jean Photography
Kanowsky Family
John & Cassie Keister
Lee Family
Jose & Mary Lopez
Magid Family
In Honor of Taysen Langstraat, Manna Insurance Group
Laura Menke
MENTALiTY
Dennis & Carolyn Miller
Jennifer & Jon Miller
In Honor of Zoey, Needham Family
George B Page Foundation
Ani & Justin Pollack
Paul & Emily Ross
Randy Solakian Estates Group
Riviera Ridge School
Anita L. Stafford Charitable Lead Trust
Robert & Tracy Stoll
Storment Family
Darren Tepper
WAWOS
Jennifer Yau Photography
Zarley Family Foundation
Zia Group
Santa Barbara Zoo
THE STORY BEHIND GWENDOLYN'S PLAYGROUND
Gwendolyn's Playground was inspired by Gwendolyn Strong, a tenacious Santa Barbara child born with spinal muscular atrophy (SMA). Gwendolyn made friends wherever she went and lived a very inclusive life: attending mainstream public school, dancing hip hop in after-school enrichment, participating in three half marathons, and having regular playdates with peers. However, when it came to enjoying the most basic childhood right of passage, there were no playgrounds in the region accessible to her wheelchair and needs.
By giving everyone a chance to play together, Gwendolyn's Playground serves as a joyful microcosm of a more tolerant and kind society, in which children of all abilities can participate and enjoy equal opportunities to flourish. Gwendolyn + her peers showed us that friendship has no limitations.
Gwendolyn's Playground is an integral component of a re-imagined 10-acre public space, which includes building new year-round tournament-grade sports fields, a fitness area, walking paths, picnicking, and more at Dwight Murphy Field, an area one block from East Beach and directly across from the Santa Barbara Zoo. This redevelopment will foster tourism, community engagement, and will be a popular highlight of our beautiful city.
Sign up to get inspiring stories about kindness and impact delivered straight to your inbox!